Everything Michigan, Everything Craft: Small Town Brown Steak & Wild Mushrooms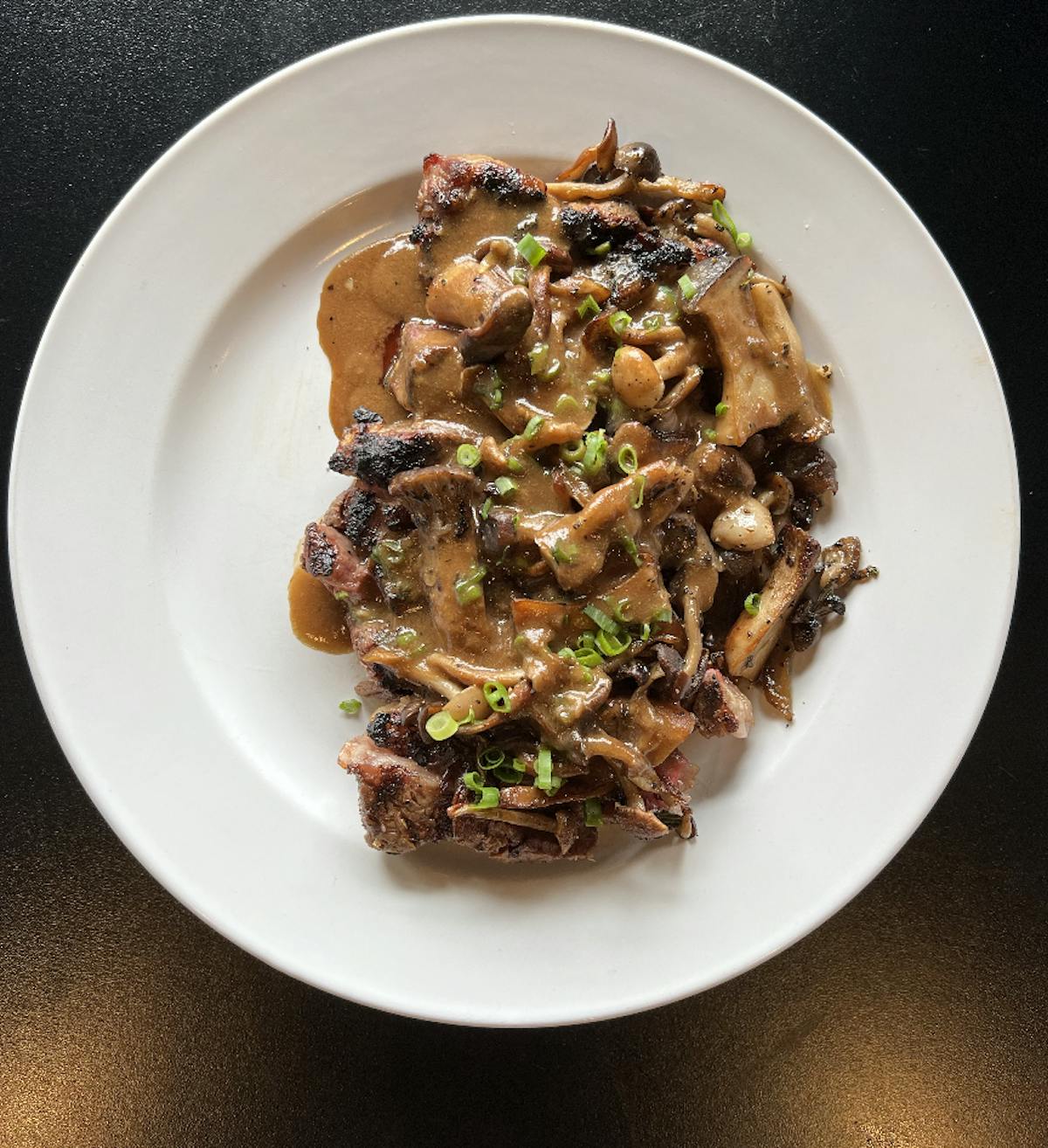 Every creative has their own process, whether crafting a recipe, sketching out an idea for a painting, or writing a poem. Chef Vince, the culinary director at Grand River Brewery, shared some insight with me on his creative process. He prefers quiet solitude when crafting a new recipe, time to really think deeply about pairings, textures, flavor, everything that goes into an excellent dish. And so recently, there sat Chef Vince in his quiet solitude, dreaming of a perfectly balanced rich yet hearty steak and mushroom dish. Soon thereafter, the Small Town Brown Steak and Wild Mushroom entree came to be, and is now available at both locations.
Vincent Strolis, as the culinary director, is tasked with helping the culinary department in terms of menu development and building up the culture of the kitchen, so it extends beyond the realm of just food to include every facet of how the kitchen is supposed to function. Vince holds the ideology of "people then food" in his work, meaning he believes that if you take care of your people, they will take care of your food. One thing he's noticed in his tenure at GRB is how much the kitchen staff truly care and how much they want to care about the quality of food and service they put out. He's maintained that quality is the number one priority in both GRB kitchens, it's part of our culture. Even down to the bread that we have made fresh daily for our burgers, and all the other ingredients we get from Manchester Market: Vince says they are all chef level ingredients, and giving the kitchen staff such quality components to work with contributes to a higher sense of morale and, as a result, a more careful approach. Born and raised in Michigan, Vince knows well of the bounty this beautiful state has to offer, but was still surprised at just how amazing our beef in particular is. His work with the head butcher, Afrim, at Grand River Butchery showed firsthand just what you can find in Michigan if you look hard enough.
The inspiration for the Small Town Brown Steak and Wild Mushrooms dish came largely from the availability of top quality local ingredients and a desire to marry them together. The head butcher at Grand River Butchery, Afrim, selects a different 10 oz cut with the arrival of each new steer, always keeping the steak fresh. Born and raised in the Former Yugoslavia, Afrim has had a passion for food since the age of 14 when he worked in his brother's pizza joint. At 18 he became a Chef in England, and eventually moved to Germany and then Holland to learn more about food. Love for his wife brought him to the United States in 2006, at which point he started working at Zingerman's Roadhouse as a Chef. He met Justin Dalenberg, who was Zingerman's head chef at the time, and the two became fast friends who shared dreams about opening restaurants and markets. It was at Zingerman's that Afrim learned the skill of butchery and along with it a love for quality farm to table meat. He learned to spot differences in meat based on what the steers were eating, and found a true passion. In 2019 he became the head butcher for Manchester Market and Grand River Butchery, where he continues to work his magic today. He maintains a passion for quality meat, and has great respect for the work that goes in from farmer to plate.
Rotating between skirt steak, flat irons, top sirloins, and boneless ribeye, Afrim's butcher cuts always come from a whole steer from a local Michigan farm like Noggle Farms. Part of Chef Vince and Afrim's decision to have this be a rotating cut comes from our commitment to using the full steer any time we receive one, as well as our desire to always have something new and exciting for our guests. The meat is cooked to perfection with our Grand River Steak seasoning, which has the lightest hint of brown sugar for a slightly sweet taste. While the steak itself may take center stage, the mushrooms are an equally important part of the dish.
The mushrooms are beautifully roasted, foraged right in Michigan. King Trumpets, White Albas, and Porcini hold their own perfectly with a hearty steak dish because they have an almost meaty texture of their own. Local Michigan foragers will work through the forests of Northern Michigan right up until the weather freezes. Chef Vince knew that only a quality Michigan mushroom would properly compliment a Michigan steak, and so he brought his vision to delicious fruition. The richness of the mushrooms pairs perfectly with the steak seasoning, and all of it comes together with the Small Town Brown Gravy. This gravy is made in house using the Small Town Brown Ale, crafted expertly by the Head Brewer, Wyatt. This American Brown Ale is rich in flavor, depth, and character. An outstanding example of its style, Small Town Brown gives off notes of caramel, toffee and mild roast, while maintaining a smooth mouthfeel. The hops are apparent yet docile in the brew, making it a perfect beer to use to make a hearty, semi-sweet gravy.
With all that gravy, we had to throw in some mashed potatoes too. The GRB Garlic Mashed Potatoes are yet another essential part of this dish, balancing all the hearty meat textures and flavors with something softer and more herbal in taste. And really, what better way to soak up any extra gravy than with some fluffy mashed potatoes? Steak, mushrooms, and mashed potatoes sounds like a simple dish, but what goes into the composed recipe is what takes this entree above and beyond. The story of each ingredient stands on its own, and when combined it creates an unforgettable experience. This dish is truly meant for Fall, when we seek out coziness, richness, and togetherness.